"Train up a child in the way he should go, and when he is old he will not turn from it."
~Proverbs 22:6
I just had to share this great idea I saw about how to teach your children the Word of God.
It's called...
What a great idea!
It comes from
Mindy
at
Child Training Bible.
She and her husband are a homeschooling family and have come up with this fun and creative way to use God's Word in teaching their children.
Not only did they come up with the idea, but they will show you how to make one for yourself. You can order the
Child Training Bible Key
and the
Scripture Tabbing Charts
directly from their website and they also provide links to additional products you will need.
AND
... they even have a how-to video!
Yep! It's all there!
I am so excited to see this! I have been looking and praying for ways to teach my children the Word of God and I see this as an answer to prayer. Not only will it help my kids... it will help me too! I think it will make a great family project. :)
If you like this idea...
please visit their site
by clicking on the button below. They have a wonderful idea and I appreciate their willingness to share it. Give them your support and pass it along.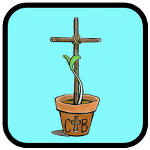 Please visit them at:
www.childtrainingbible.com
Impress them on your children. Talk about them when you sit at home and when you walk along the road, when you lie down and when you get up.
~Deuteronomy 6:7
Thanks for reading and God bless! :)